American hardwoods enjoy a timeless appeal and hardwood flooring keeps growing in popularity. For many homes, it's a great choice for busy living rooms, bedrooms, kitchens, or making a design statement in that entryway. If you're like millions of other homeowners and have fallen in love with the idea of hardwood flooring for your home, you've probably discovered there are many wood types to choose from. Oak, hickory, and maple are three of the most popular hardwood floors. Let's dive into what each brings to the table when it comes to aesthetics and durability to help you make the right choice for your home.
Oak Hardwood Flooring
In the U.S., oak flooring is arguably the most popular. This rugged wood absorbs stain well, is very durable, and brings a cozy look to any home. With oak, you have two options: red or white.
Red Oak Flooring
Abundant red oak is a classic light color with subtle red or pink undertones. It tends to have linear grain lines so patterns always look simple and clean, never too busy. Darker stains accentuate the rose-y nature of red oak, but you may experience some color variations from plank to plank regardless of stain.
Red oak is great in gathering areas such as living rooms, great rooms, and open spaces. It can also be a workhorse in busy hallways and in offices or dens where someone might sit for hours tending to the day's work.
What's also fun about red oak is its ability to play with light. A brightly lit room might enjoy some of its hints of red and pink for an open, vibrant feel. And if you opt for a darker tone in that den or office, a red oak may invite that classic mahogany-colored desk, a comfy reading chair, and dim lighting.

White Oak Flooring
American homeowners have fallen in love with white oak in recent years. Another durable option, white oak is great at concealing dings and scratches, handles humidity well, and has busier grains than its red cousin.
Most people opt for a lighter stain with white oak, which also tends to have a yellow-ish undertone. Bleached or gray white oak flooring is very popular today, especially in modern settings.
You'll love a white oak floor in great rooms and large open spaces, but it can also make powerful statements in kitchens and dining rooms as well. Some designers see light-colored white oak as a centerpiece in large spaces. You can dress it up with gray, white, cream or other light furnishings with pops of orange or blue accent pillows. Also, in a large kitchen, for example, a gray-ish light-colored white oak stands out with, say, black quartz counters and white cabinets.
Some white oaks are stained to accentuate yellow-ish or beige undertones. This might make the floor slightly darker and downplay its presence in a room slightly, but, in general, a light white oak floor is still often embraced by those who want the floor to stand out among either classic or modern décor touches.
Maple Flooring
Maple is another rugged option for floors that absorb stain, paint, and finishes very well. Maple is also widely used. You'll find it used for musical instrument-making, butcher blocks, work benches, and furniture, too. Its coloring can range from being as light as its creamy white original texture to more yellow-ish and tan.
Even though maple guards against abrasion and handles general wear well, the cold-weather tree dries slowly and tends to have a high shrinkage rate. So, keep that in mind if you're installing maple flooring in an area of the home where temperatures may fluctuate.
For decades, designers and homeowners have embraced maple's rich light tones, which even further brighten well-lit spaces. It also does well with other light colors, such as greens, creams, whites. Add a splash of black, brown or even a Hunter green in small doses to accent. Some maple flooring will have planks that are mixed dark and light, which can add character to a den or office, and also work well with lighter furniture in beige or gray. If you go with the lesser-used darker stain approach, your décor should move darker as well. That dark leather couch, along with wood end and coffee tables, will better suit a darker maple floor.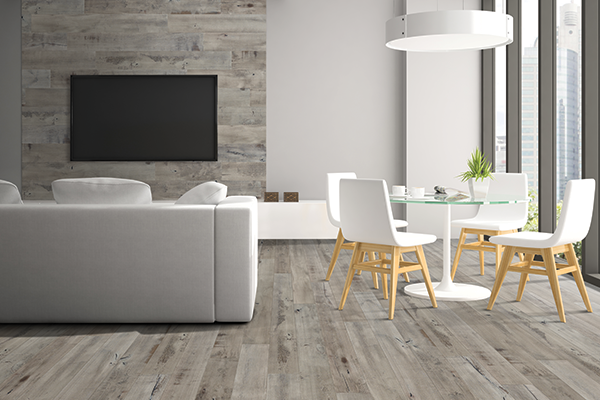 Hickory Flooring
One of the hardest woods available, hickory is also used in baseball bat manufacturing. It's very dense and resists scratching and wear and tear very well. Its grains have hints of red, tan and brown, and there's a generally rustic appeal to hickory flooring.
Its caramel undertone is great for rooms with a lot of natural light, but it also has some auburn and red-ish shades some designers like to amplify. A hickory coffee or walnut, with a medium darkness, works well in modern rooms with contemporary straight lines.
Hickory is an excellent addition for any classic look. It's great for farmhouse aesthetics, around stone fireplaces, near kitchen cabinets with windowed doors and anything else that hints at classic or traditional.
While hickory is a hearty wood, it welcomes warmth, and some designers will add darker furniture pieces to accentuate its auburn and cherry hints. But hickory also settles nicely into more eclectic designs where a hefty sofa resides alongside more dainty steel and glass coffee tables and nearby wood picture frames. Hickory is a floor that plays well with all colors and does a great job of helping items in a room either contrast or integrate as a designer may need. While hickory is not for everyone, it has loyal followers – those who knew the moment they tried it that this floor was the missing element a certain room was looking for.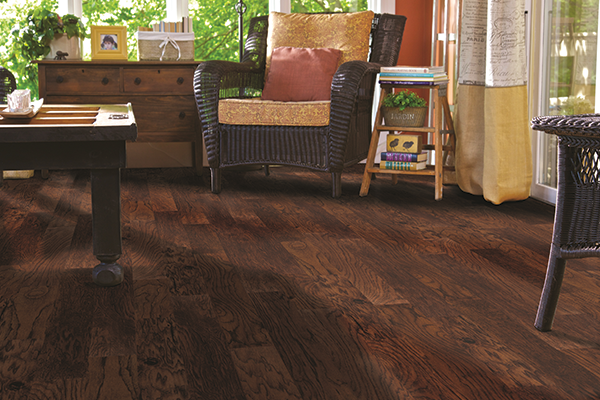 Consider Plank Width When Choosing American Hardwoods
For oak, maple and hickory floors, wider plank widths, roughly four to eight inches in width, are the most popular options. Thinner two-inch slats, which had defined oak floors for years, are less popular. However, narrow planks are expecting to make a huge comeback in the near future.
Wider planks also lend themselves to all décor types. It's important to work with a knowledgeable flooring professional to help you make the best choice when it comes to any of these three popular hardwood floors. Book an appointment with a flooring professional in your home to make the right choice for you.