Modern and minimalist designs have been one of the strongest interior design trends for the past decade. Regardless of whether your home is in an urban or rural area, it's easy to mix those clean, crisp lines and eye-catching simplicity into any home.
The bathroom is a great place to make stylish modern design come to life, but you'll need the right waterproof flooring to pull it off. While there are plenty of great tile bathroom flooring options out there, you'll also find many other types of bathroom flooring that can help you create the modern space you desire. Here's a look at what's available.
Waterproof Vinyl Planks
The hardwood floor look is popular in all areas of the home, and it's even found its way into bathrooms—that's where 100% waterproof vinyl plank comes in. It works great for bathroom flooring, and many homeowners love the warm feel under their feet when compared to often cooler tile.
You'll find that wide planks have a real textured wood look, with unique, varied patterns in each plank. It gives a rustic appeal that makes for a perfect backdrop in modern bathrooms.
Light and dark grays are hot colors for low-maintenance wood-look vinyl planks. Some designs will even integrate beige or sand-colored earth tones with the grays to add cozy sophistication that allows you to set a dark wood flat-paneled cabinet up to it. Add a white marble counter, under-mounted sink, and stand-alone soaking tub, and your modern space suddenly comes to life.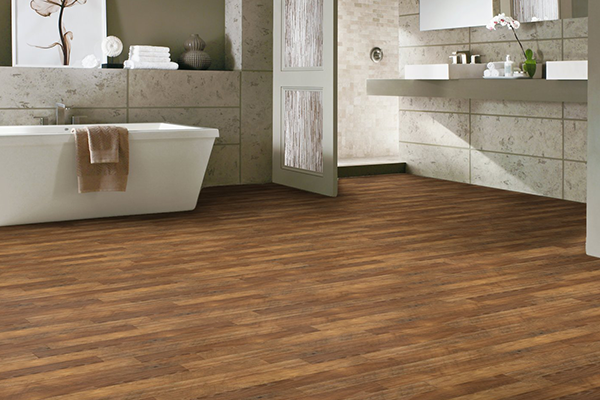 Waterproof Luxury Vinyl Tile
This offering has evolved tremendously through the years. Homeowners who opt for luxury vinyl tile love the look of tile but prefer a warmer surface under their feet. And just like vinyl planks, these tiles are also mold and mildew resistant. They also wipe down easily and handle heavy water very well. And with the comfort and easy maintenance comes the very real look of tile, too!
When you design a space with tile in mind, you make no sacrifices with the vinyl tile option. You can enjoy grout lines between them, although the trend today is to keep those lines thin.
You can go for a minimalist spa-type look with a neutral color, a light maple grain cabinet, and a rolled towel on the white counter. Let splashes of green come through with potted plants, and keep the space well-lit and uncluttered for that airy, calming spa feel.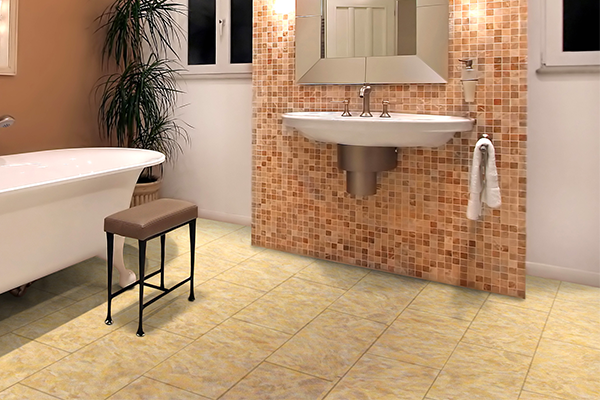 Waterproof Laminate
For years, people trusted laminate for high-traffic areas, and it eventually made its way to the kitchen. The moisture and humidity found in a bathroom, however, kept us leery of using it there. But times have changed. Waterproof laminate is now available, and you can find that rich red or white oak wood-look for your bathroom at a very affordable price.
Laminate finishes tend to be glossier than other wood-look options, but you can still get creative. Choose a light gray and contrast it with a black subway tile in the shower. Or go with a darker wood floor color and contrast it with a brilliant white shower and counters for a transitional look. Add a claw-foot tub for a unique touch and something more eclectic, and watch this space become your own modern bathroom sanctuary.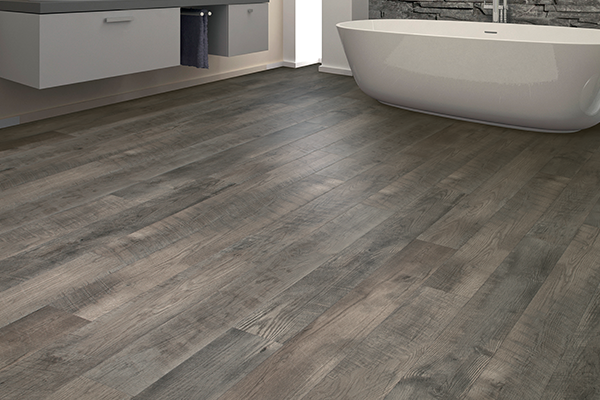 The Many Faces of Tile
Thanks to the popularity of today's wood-look products, you'll find plenty of tile designs with a wood look, too. For bathrooms, that means you get the unmatched traffic and moisture resistance of tile with the modern appeal and warmth of a wood aesthetic. You'll want to keep your grout lines thin, but you can let your mind wander with the grainy, earthy textures of today's wood-look ceramic tile.
Some modern bathrooms also employ diagonal patterns with distressed wood-look gray tile textures. It's an imaginative way to make the floor stand out without overtaking the space.
And don't overlook the power of a tile look. You can go with a frame-less shower and incorporate a floor with varying rectangular shapes—here, the floor becomes more of a focal point. Large (18 inches or more) tile with matted singular colors or earth-tone waved tile may give a classic hint, but it can still work against simple whites, blacks, and grays in counters and cabinets.
The high-gloss of porcelain tiles can sometimes be used to give an urban look. But many of today's porcelains are often toned down, too—closer to a matte finish. Keep your floor simple, with a white or gray porcelain design, and you can go with a contrasting black subway tile in the shower, a white cabinet, and black counter for an urban look.
Or take it in an entirely different direction: add pops of blue or green to the walls. Give the vanity a splash of oak, and flood the space with natural light to give your modern bathroom a nature-y feel!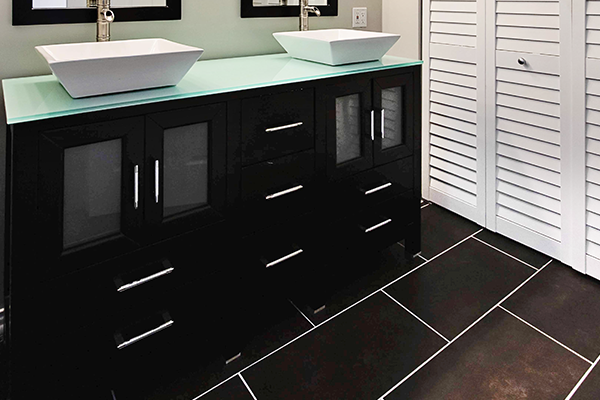 With so many waterproof bathroom flooring options available today, there isn't a design concept that can't be perfected. Make an appointment with a sales professional today, and let them help you create a space you'll love.