2018 is finally here, so, naturally, we're extremely excited to tell you about the hot flooring trends! Every year, new trends arise and change up the flooring game. Since we love to provide our customers with the latest flooring, it's only right we keep you in the know. From hardwood to carpet, here are some styles you can expect to see a lot more of in 2018.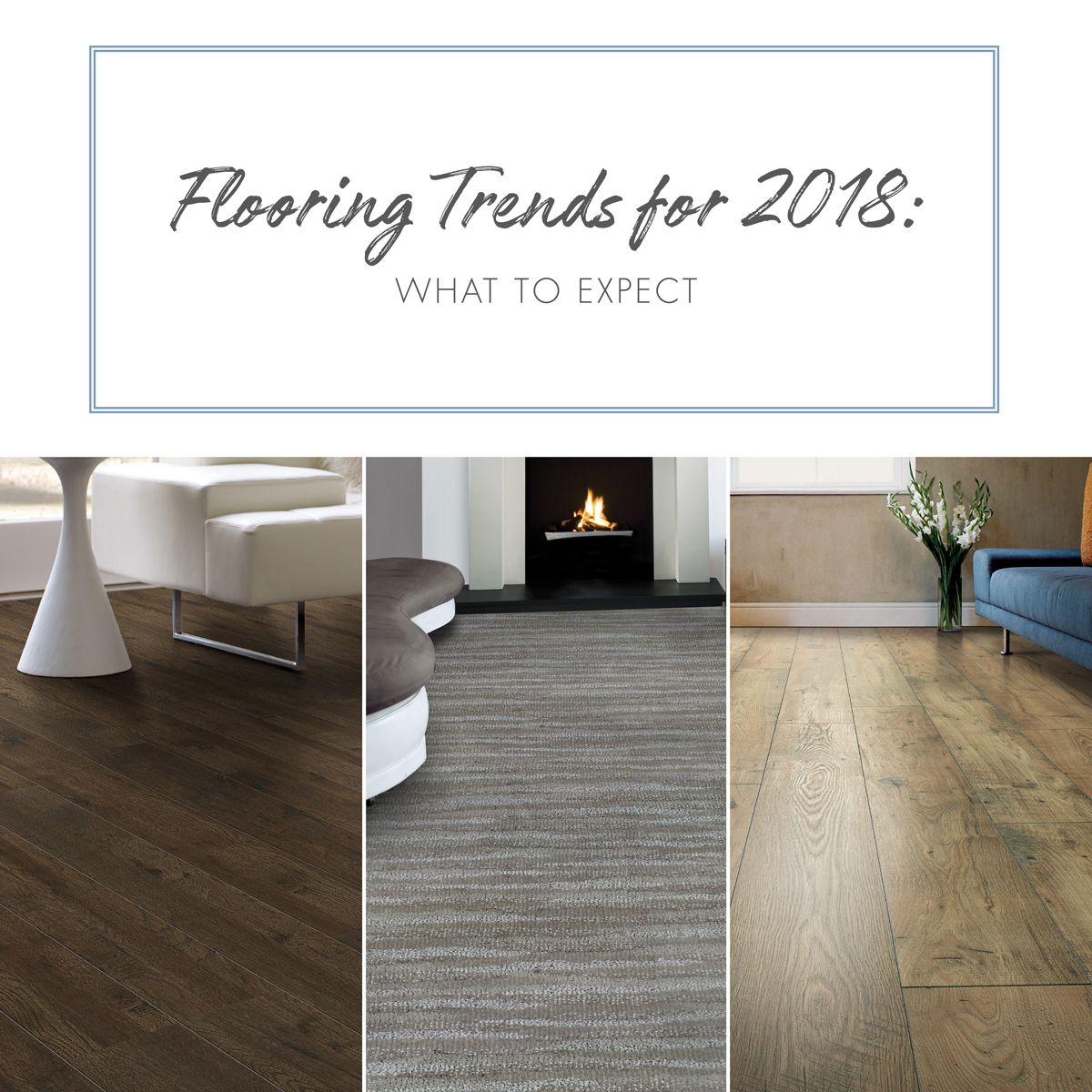 Wide planks give an authentic aesthetic
Add authenticity to your home with wide planks, one of the newest wood look trends. If you have a small room, they can help add the illusion of a bigger space. Even better, the wide-plank wood look is available in hardwood, vinyl, laminate, and tile. So, depending on your durability needs and lifestyle, you're sure to find a product that works for you.
Matte finishes are a stylish way to help hide imperfections
Glossy finishes have been popular in the past because of their shine and sophisticated look. However, matte finishes on flooring have been trending. While both finishes look great, matte finishes can hide dents, scratches, and dust better. Practical and fashionable, a matte finish is a stylish choice for your floors.
Vinyl plank has a wood look that's 100% waterproof
What's better than a wood look for a lower price than traditional hardwood? A wood look for a lower price that's 100% waterproof! With more durability than traditional hardwood (its surface comes with scratch-, stain-, and dent-resistance), vinyl plank is ideal for heavy traffic. Its waterproof feature means you don't have to stress a spill, so it can work well in wet areas like kitchens and bathrooms. With its modern style and easy maintenance, we can see why vinyl plank is becoming increasingly popular.
Pattern carpet gives comfort while adding style
Pattern carpet is a great choice if you're looking to get modern carpet. With a cut and looped variation of fibers, it can come in many patterns, such as geometric, linear, or dotted. The latest pattern for this flooring trend has been "tree bark" such as the one for Natural Touch, Luna's stain and pet protected, pattern carpet. In addition to giving your floors a distinctive style, pattern carpet is easy to maintain. Its looped fibers make it durable for heavy traffic and harder for spills to seep down, making cleaning less complicated.
Luna's Natural Touch has a distinctive tree bark pattern for a stylish, modern look
Cooler tones add a modern touch to the room
Red-brown warm tones are giving way to light and dark cool tones in 2018. Cool tones tend to be easier to match with a wide variety of décor and can help liven up the room. Lighter shades can also make your space seem bigger and are great for a smaller area while dark shades can make your room look smaller. However, both variations of shades make for a great touch of sophisticated style for your home.
Greige is the latest neutral to blend with home decor
Gray has been a popular color this year and is predicted to continue growing. However, greige is the newest neutral to watch out for in 2018. It has a look that combines gray and beige, giving it a unique shade that blends easily with home décor. This color can also make the transition between different flooring types smoother. Are you ready for an influx of greige in 2018?
Although some of these trends have been gaining popularity for some time, they are expected to grow even more in 2018. Schedule your FREE In-Home Appointment today so you can visualize these trends in the comfort of your home.